---
Renderware - 3D Previews for ecommerce
The online sales of personalised printed products is increasing since the beginning of the internet. More and more consumers find their way to online shops where they can design their own products. But with this trend also comes the challenge of clearly communicate the looks of the designed product. A wrong impression can lead to more pressure on customer service and a lower conversion.
A solution that comes to mind is displaying a 3d image of the designed product. Nowadays many options exist for displaying 3d previews of personalised products to consumers. Flash, WebGL or HTML5 Canvasses to name a few.
However each of them has downsides for ecommerce.Flash doesn't work on iOs devices. WebGL or HTML5 Canvasses are also not widely supported on mobile/tablet devices. If they would work, they would still require that the entire geometry needs to be downloaded to the client. For an accurate 3d model this can quickly go up to multiple Mb's. Also, the quality of the preview depends on the graphics cards of the consumer.
A more simple solution was needed and Renderware is just that. A cloud 3D engine that generates mobile ready .jpg sprites of your 3d model in under a second. This works on all devices with just javascript and loading a relatively small image. An average increase of 7% in conversion and less customer service pressure are what follows.


---

Key Features
Increased conversions
On average around 7% (AB Tested)
Fewer customers calling
A clear 3D Impression leads to less customer service pressure
100% Cross device
Javascript and images work on all devices
Quick implementation
Just 2 Api calls should be integrated
Superfast generation
On average it takes 1-2 seconds to generate a full personalised 3D Preview
Your own products in 3D
Optionally we 3D Model your own products. Or pick from our library
---
Renderware 3D Personalised previews for ecommerce
Less customer service pressure and 7% conversion increase.
---
Live Demo
1. Select a product
(This demo has no cropping for sake of simplicity; this happens in your application)
2. Upload image:

3. Click the button to generate
---
About
Yoursurprise has been creating personal gifts since their founding in 2005. They have grown to be one of the larger providers of personal and corporate gifts in Europe.

With Renderware implemented in their configurators they are able to get 7% more conversion on the sales of their personalised mugs and less pressure on their customer service department.
Go to website
Technologies

Renderware render technology
Javascript/css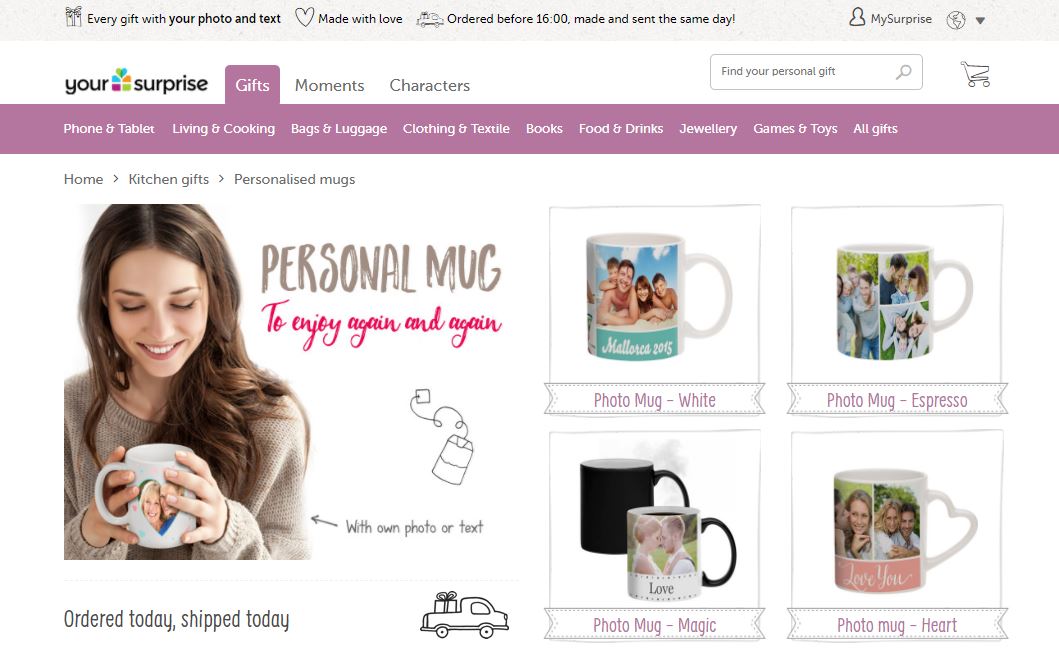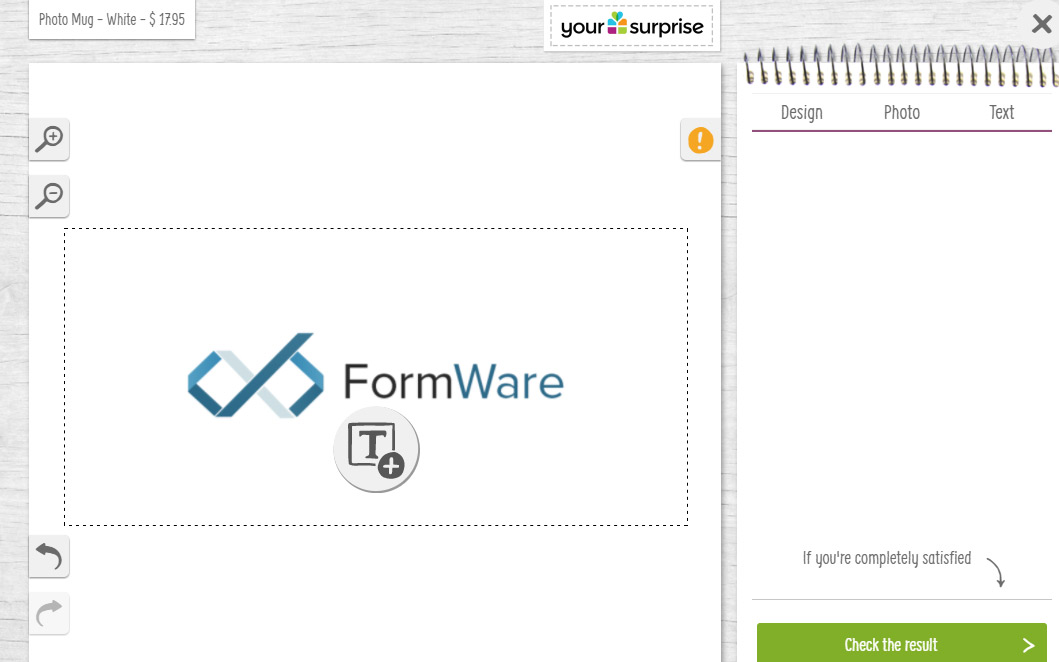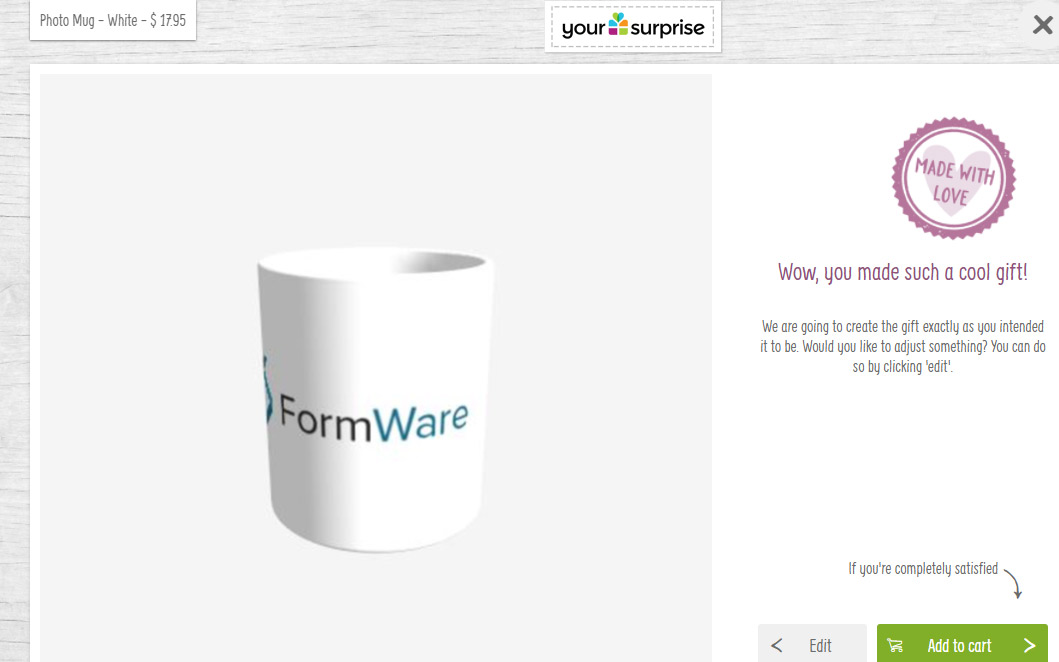 ---
How does it work?
Your customer uploads 1 or more images for a personalised product. For example a photo-mug.
The customer's image is sent to our Api
Within 1 second our api loads your mugs 3d model and quickly creates a .jpg file with +/- 30 views stitched together.
The .jpg image is returned to the clients browser and you display this with a small part of javascript.
How to integrate?
Integration consists of 2 parts:
Modelling your products in 3d based
Integrating the Api in your application (2 Api calls only)
For the modelling of your products to be exact we require some samples; but this is not always necessary.
If you have a technical department you can integrate the Api without much effort in your application yourself. Otherwise we are happy to assist.